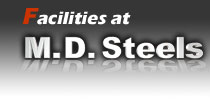 Quality Assurance & Testing Facilitites (Quality always our First and Highest Priority)
Multiple Base Calibration Optical Emission based Vaccum Spectrometer for Quality Control, Chemical Composition Testing, Analysis , Certification and positive material Identification.
Handheld XRF PMI Gun for Quality Control,positive material identification, sorting and Certification.
Molten Metal Temprature Measurement using Dip type and Infrared Instruments.
Ultrasonic Testing Machine for Quality Control Certification and Testing.
Fully Equipped Wet Chemical analysis laboratory for Quality Control, certification and testing.
Hardness testing instruments for Quality Control, Material Analysis, certification and testting.
Oprical Microscope for Quality Control, Material Analysis, certification and testing Identification.
Muffle Furnace for Quality Control, Testing and Research.
PERIODICALLY Calibrated Measurement Instruments such as Scales, Vernier, Calipers, Micrometer etc.
Ultrasonic Testing Machine for Internal Defect Indentification/ Analysis.
Magnetic Particle Die Penetrant Testing.
If required tests like Radiography and other NDT tests can be arranged through Third party organizations.
We are keen on meeting all customer quality requirements and are constantly improving our processes, quality and testing capabilities to be able to meet the most stringent of quality requirements.
Foundry and Manufacturing Facilities
Multiple Induction Melting Furnaces with degassing systems with capacities ranging from 100 to 1100 Kg.
Horizontal and Vertical Centrifugal Casting Machines for MAX 1100 mm OD and 4 Meters Long Centrifugal Casting.
Heavy Duty High Speed Open Die Forging Hammer
Heavy Duty Custom Design Hot Rolling Mill for rolling of High Speed Steel (HSS), Tool Steels,High Carbon & Super Alloys
PSA N2 Plant and Ammonia Cracker
Various Sizes of Dies and Mold For Centrifugal Casting
Mechanized sand plant,Sand Muller, mixer, core sand mixer, core baking oven
Fully Automatic Atmosphere Controlled Furnace For Heating, Forging, Hot rolling, etc
Fully Automatic Heat treatment furnace with temprature control for Annealing, Normalizing,Spherodize Annealing, Controlled atmosphere Annealing, Solution Annealing
Hydraulic / Pneumatic testing equipments for pressure testing and quality assurance.
Fabrication facilities for TIG, MIG, ARC , BUTT Welding of Stainless Steel,High Alloys, Nickel Alloys HR Steel Cast / Wrought components
250 Kg Electroslag Remelting Furnace (Installed but not Operational)
Machining and Finishing Facilities
HAAS ST 20 CNC Tuning Center
Chucker type Lathes of Various sizes up to 3.5 meters length
Straightening machines for Round , Square and Flat Bars
Centerless Bar PEELING Machine
Centerlesss Grinding Machine for round bars
Band saw for cutting upto 350 mm OD Round and Square.
Hydraulic press and Straightning Machine for Bars and flats
Shot and Sand Blasting machine & Swing Frame grinder
Electric / Pneumatic grinders, Chippers, Flexible Shaft grinders, Welding machines , Drilling Machines
Finishing, Grinding and Cutting Tools